Sale!
Hemp Seed Oil Capsules (500 mg)
Cold pressed hemp seed oil
60 softgel capsules (500 mg per capsule)
Rich source of Omega 3, 6 and 9 fatty acids
Organic product
Dietary supplement
Recommended use
2-3 hemp seed oil capsules per day with meals
We recommend hemp seed oil capsules for people who want to improve the overall well-being of their body.
Do not exceed the maximum indicated dose!
Hemp seed oil profile:
Hemp seed oil has an ideal ratio of omega-6 to omega-3 fatty acids (approximately 3:1).
On average, each serving of hemp seed oil contains the following levels of polyunsaturated and monounsaturated fats:
Alpha-linolenic acid (omega-3) 21%
Linoleic acid and gamma-linolenic acid (GLA) (omega-6) 57%
Oleic acid (omega-9) 13%
and other (saturated) 9%
High iron content (20% of the recommended daily allowance);
Hemp seed oil capsules description:
Cannadoca hemp seed oil is a wonderful food supplement to any diet.
It is a rich source of Omega 3, 6 and 9 fatty acids. Adding hemp seed oil to your diet will help keep your body functioning normally and in optimal balance. In particular, hemp seed helps the immune, cardiovascular, musculoskeletal and nervous systems. However, that's not all! Hemp seed oil also improves metabolism and energy levels in the body. It has a proven effect on hair, skin and nails.
* Always consult a health professional before use. If you are hypersensitive or allergic to
any of the ingredients, do not use!

Why Cannadoca Hemp Seed Oil?
Cold-pressed seeds from organically grown hemp
Rich source of Omega 3, 6 and 9 fatty acids
Organic product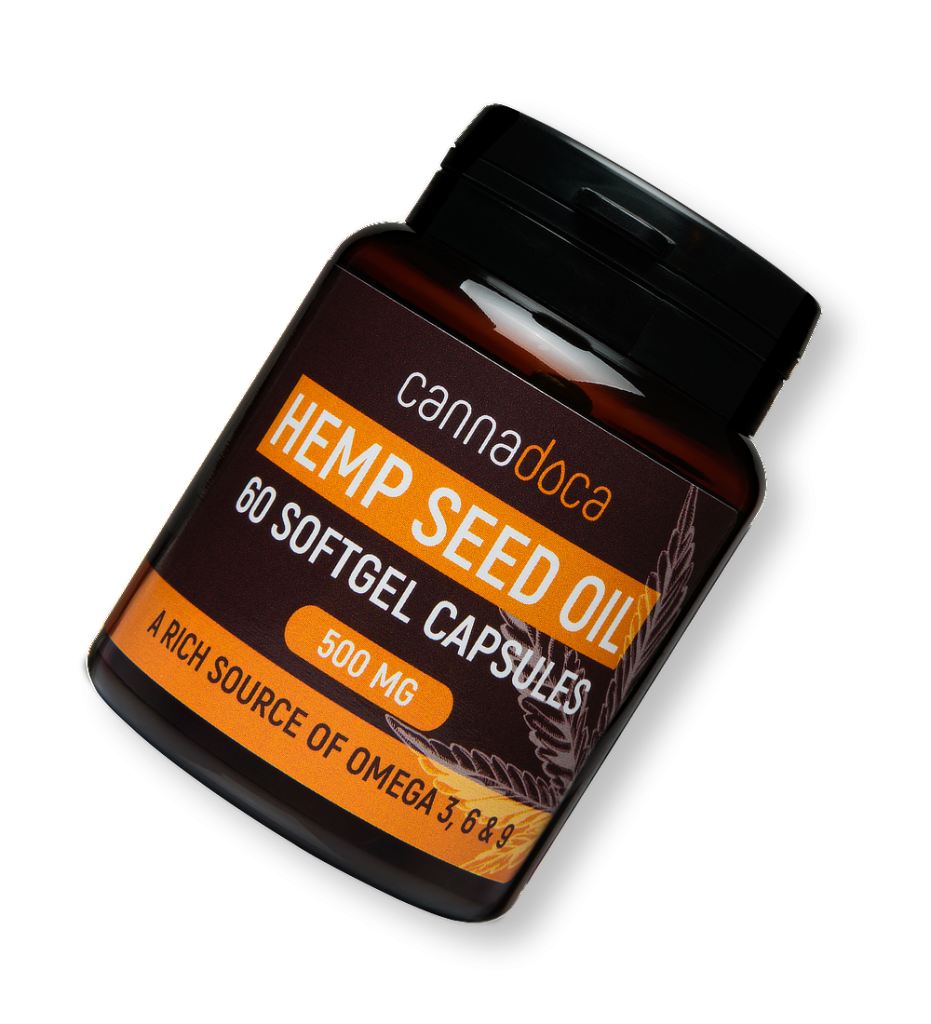 Cannadoca Hemp Seed Oil Capsules do not contain Tetrahydrocannabinol (THC) or Cannabidiol (CBD) and are not psychoactive.
Important: Hemp seed oil should NOT be confused with CBD oil.
Keep out of the reach of small children! If you have an allergy or medical condition, consult a physician before using this product! If you are pregnant, planning to become pregnant, or lactating, consult a doctor before using this product! Do not exceed the recommended daily dosage!
This product is not a substitute for a varied diet!
Hemp seed oil benefits:
Hemp seed oil can provide the following benefits:
Improves cardiovascular function and reduces cholesterol;
Supports central nervous system function;
Reduces stress and calms the brain;
Helps with joint pain due to inflammation;
Helps maintain hormonal balance;
Soothes symptoms of painful PMS;
Helps with respiratory problems;
Helps overall immune system function;
Hemp Seed Oil Capsules Effects: The Ultimate Secret to Good Health