CBD Oil Pets 10% (1000 mg)
55,00€
1000 mg CBD Oil
Organic sesame seed oil, Vegan and Keto friendly
Graduated pipette for easy dosing
Steam extracted hemp terpenes
Fundacion Canna laboratory tested
In stock
Ingredients
Sesamum indicum seed oil, Cannabis Sativa L. Extract, Cannabis Sativa S. Extract and natural terpenes.
The CBD Oil for Pets from Cannadoca is specially formulated for our best friends
Recommended use
0.5-1mg/kg CBD twice a day.
(~3.33 mg CBD per drop) /  10 ml. bottle (~300 drops)
10% CBD Oil for Pets Strength
Example: For 10 kg dog
5-10 mg CBD – 2 times a day or 2-3 drops (3,33 mg CBD per drop)
Remember that the dosage is a general recommendation. Like us, our pets have individual limits and dosage goals, so we recommend starting low and increasing the dosage slowly. Doses may vary depending on the individual case and condition.
You can find our Laboratory results here:
10% CBD Oil For Pets Carrier Oil
The cold-pressed sesame seed oil is rich in beneficial monounsaturated fat (oleic acid, 40% of total) and polyunsaturated fat (linoleic acid, 42% of total) and is a natural source of vitamin K.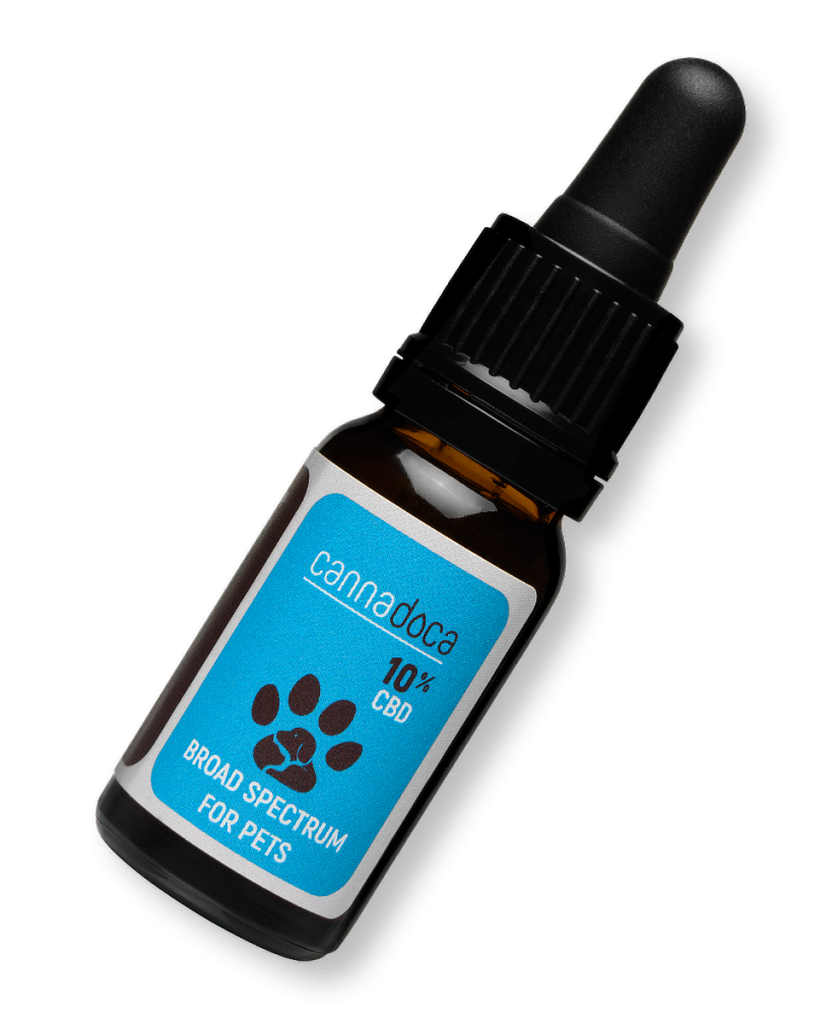 Cannadoca CBD oil and Terpenes
Our terpene profile is steam distilled from fresh cannabis plants. It contains all naturally occurring aromatic compounds found in the plant.
Cannadoca terpenes profile include:
These aromatic compounds synergize with our CBD oil for pets, potentiating the efficacy. Moreover, each of the compounds in the list above has its own beneficial effects exhibited in numerous medical researches.
Description
Cannadoca CBD Oil for Pets 10% as the name suggests is a hemp plant extract with 99%+ CBD and natural terpenes with all other cannabinoids removed. Produced with some of the purest, highest quality cannabidiol, our latest pet extracts are specially formulated to produce maximum results in dogs and cats of different breeds.
Like all other Cannadoca CBD products, the CBD oil for pets is made to the highest quality standards. Starting with organic hemp plants that are free of GMOs, toxic pesticide residues and other harmful chemicals, our best friends deserve the best and we strongly support that belief.
Cannadoca quality guarantee
The product does NOT contain GMOs, pesticides or herbicides.
Vegan and Keto-friendly ingredients.
Cannadoca CBD Oil for Pets is a natural product of the highest quality, allowing you to experience all the benefits of Cannabidiol.
For best results
Consistency is key for success. Use daily.
Store in a cool and dry place away from direct light. Shake well before using.
Dropper use: Gently squeeze the rubber end and release. Easy-to-use marked dropper for accuracy.
Avoid touching dropper to mouth to maintain high quality CBD oil for pets 3%.
Is your pet sensitive to CBD flavors? Just mix the oil with his favorite food or treat.
Frequently asked questions about CBD Oil for Pets:
* Keep out of the reach of children. This product is not intended to diagnose, treat, cure or prevent any disease. Always consult with your veterinary doctor if your pet is taking any medication or have medical conditions.