Terpenes were once thought to provide nothing more than an enticing aroma to thousands of plants, from cannabis to conifers and lavender to lilac. From an evolutionary perspective, terpenes help protect plants from pests and predators with their intense scent. In recent decades, however, researchers have learned that terpenes provide medical benefits to all mammals that rival those of their chemical cousins, the cannabinoids.
In this article, we explore the world of terpenes, the fragrant molecules that give CBD strains their unique aroma. We'll take a closer look at their properties, benefits, and how they interact with other compounds in the cannabis plant.
At Cannadoca, we believe that understanding the science behind the cannabis plant is essential to make informed choices about the products we consume.
We'll also have a closer look at each of the 6 terpenes that are present in our CBD oils and CBD capsules.
What Are Terpenes?
Terpenes are a diverse class of organic compounds found in a wide variety of plants, including cannabis. As mentioned above, they are responsible for the characteristic aroma and flavour of many fruits, flowers and herbs. In cannabis, terpenes are synthesised in the trichomes, the glandular hairs on the surface of the plant. They are produced in the same glands as cannabinoids such as THC and CBD and play an important role in modulating the effects of these compounds.
Explore the 6 major terpenes in our CBD Oils and CBD Capsules
LINALOOL
Linalool is one of the most recognizable aromas of all the terpenes. It is a common terpene found in cannabis but is also naturally occurring in many flowers and spice plants. Over 200 species of plants produce linalool, but it's best known for giving lavender its distinctive flavor and aroma. It is found mainly in the families Lamiaceae (mint and other herbs), Lauraceae (laurels, cinnamon, rosewood), and Rutaceae (citrus fruits), but also birch trees and other plants from tropical climate zones 1. It's even been found in some fungi.
A natural relaxant, this terpene is often used in aromatherapy as a sleep aid and has been used for thousands of years to treat anxiety.
Linalool exhibits calming and sedative effects when inhaled, along with lower aggression and higher social engagement. It has been linked to a variety of health benefits2 including analgesic, anxiolytic, sedative, anti-inflammatory, anti-tumor, and antibacterial effects.
Linalool makes up a significant portion of lavender essential oil, which has reported anti-agitation and antidepressant effects3, most likely due to its activity on the NMDA receptor. It is also crucial in the production of Vitamin E in the body.
It is used as a scent in up to 80% of perfumed hygiene products and cleaning agents, including soaps, detergents, shampoos, and lotions. Linalool extract can be applied directly to the skin or inhaled.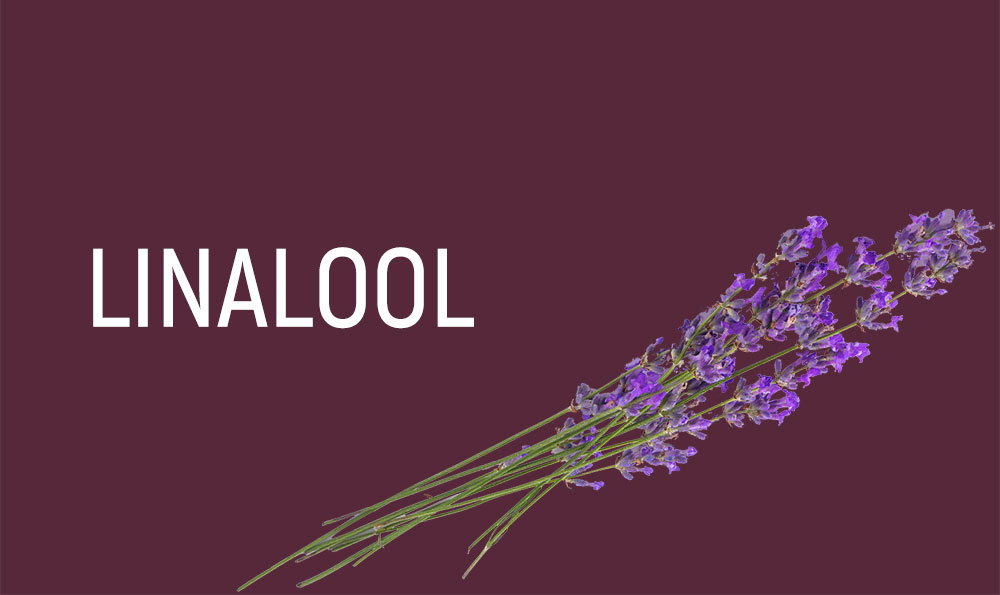 THERAPEUTIC BENEFITS
ANALGESIC: PAIN RELIEF
ANTIDEPRESSANT: RELIEVES SYMPTOMS OF DEPRESSION
ANTI-EPILEPTIC: REDUCES SEIZURES AND CONVULSIONS
ANTI-INFLAMMATORY: REDUCES INFLAMMATION
ANTIPSYCHOTIC: TRANQUILIZING EFFECTS REDUCE SYMPTOMS OF PSYCHOSIS
ANXIOLYTIC: RELIEVES ANXIETY
SEDATIVE: PROMOTES SLEEP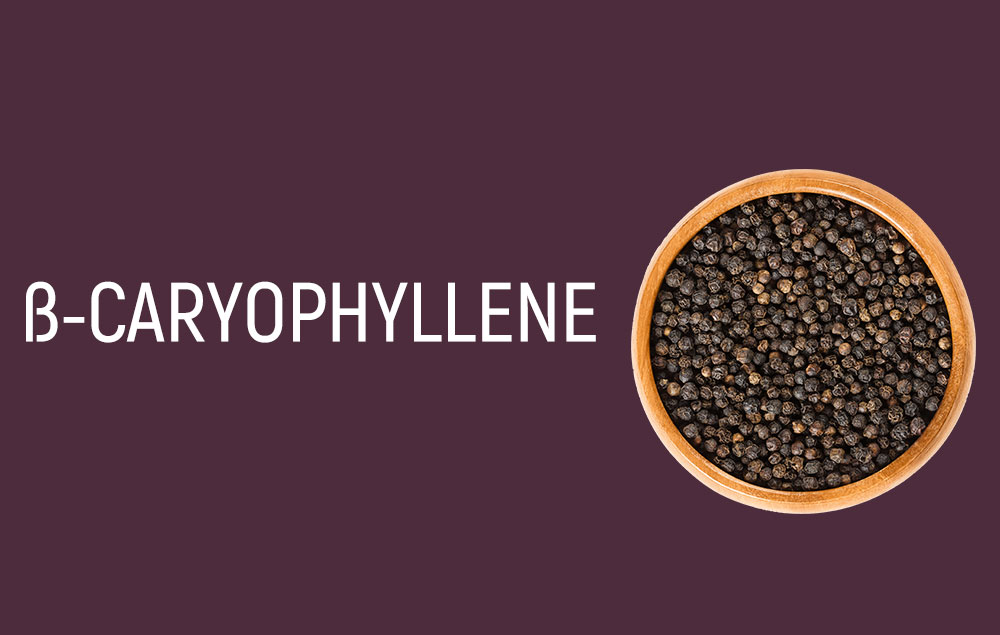 THERAPEUTIC BENEFITS
ANALGESIC: PAIN RELIEF
ANTIBACTERIAL: SLOWS AND COMBATS BACTERIAL GROWTH
ANTIDEPRESSANT: RELIEVES SYMPTOMS OF DEPRESSION
ANXIOLYTIC: HELPS RELIEVE ANXIETY
ANTI-INFLAMMATORY: REDUCES SYSTEMIC INFLAMMATION
ANTI-PROLIFERATIVE: INHIBITS CANCER CELL GROWTH
ANTIOXIDANT: PREVENT OXIDATION DAMAGE TO MOLECULES AND CELLS IN THE HUMAN BODY
NEUROPROTECTIVE: SLOWS DAMAGE TO THE NERVOUS SYSTEM & BRAIN
BETA CARYOPHYLLENE
Beta caryophyllene (BCP), an ancient remedy to treat pain, is a sesquiterpene found in large amounts in the essential oils of various spice and food plants such as copaiba, lavender, allspice, fig, roman chamomile, cloves, hops, oregano, cinnamon, and black pepper. This special component of the cannabis plant was first discovered in 1964 by pioneering Israeli academic researcher Raphael Mechoulam, who identified it as a terpene. It wasn't until 2008 that a study by a group of German scientists observed the rare behavior and characteristics that indicated that beta caryophyllene can also be labeled a cannabinoid.
It binds to the CB2 receptor, acting as a full agonist. This has several beneficial effects, one of which is to increase production and availability of the internally produced endocannabinoid anandamide. Anandamide is a beneficial cannabinoid that plays a critical role in the management of anxiety, appetite, depression, sleep, and pain and is sometimes referred to as the "bliss molecule."
Typically, when a terpene is combined with CBD oil, the terpene contributes to what is known as the entourage effect, which enhances the therapeutic and quality of experience that a consumer might have. ß-caryophyllene is unique because it is a terpene possessing its own therapeutic qualities while activating the ECS without the addition of CBD.
ß-caryophyllene is widely recognized for its use in both acute and debilitating states of pain relief, but also has applications for immune system enhancement,4 stress and anxiety reduction,5 and anti-inflammation. It also has been found to promote healthy gut and digestion by protecting the cells that line the digestive tract.
Because it is so frequently encountered in foods, it is one of the few terpenes that the FDA recognizes as "safe" to consume in large doses.6
ALPHA PINENE
Pinene, one of the most researched and documented terpenes found in cannabis, is available in two varieties: Alpha-pinene (sometimes denoted as α-pinene) and beta-pinene (β-pinene).
Alpha pinene is the primary terpene found in pine trees which gives them their characteristic "piney fresh" scent. While α-pinene is the most familiar and commonly found terpene in nature and is found in pine and conifer trees, rosemary, and orange peels, β-pinene is responsible for the more earthy aromas such as those found in basil, dill, parsley, and hops.
It is also a critical component in priming the human body to receive the healing benefits of CBD8 through the endocannabinoid system. So when α-pinene is used in tandem with high-quality CBD products, the "entourage effect" indicates some highly powerful medicinal uses. 9
Because Alpha pinene can cross the blood-brain barrier -– the mechanism that protects the brain from most substances that disturb neural function and brain composition -– α-pinene has been found to improve cognitive function and memory, increase focus and alertness, and reduce anxiety. It also has many promising uses in patients with Alzheimer's and other neurodegenerative disease (Parkinson's disease, Huntington's disease, multiple sclerosis, etc.).
A 2011 study conducted by Russo and published in the British Journal of Pharmacology noted the anti-inflammatory properties of alpha-pinene and potential efficacy for inflammation-based patients, including those suffering arthritis, cancer, and Crohn's. "It is anti‐inflammatory and is a bronchodilator in humans at low exposure levels," reported the researchers, adding "Beyond this, it seems to be a broad‐spectrum antibiotic."
THERAPEUTIC BENEFITS
ANALGESIC: RELIEVES PAIN
ANTIBACTERIAL: SLOWS BACTERIAL GROWTH
ANTI-INFLAMMATORY: REDUCES INFLAMMATION SYSTEMICALLY
ANTI-PROLIFERATIVE: INHIBITS CANCER CELL GROWTH
ANTIOXIDANT: PREVENTS OXIDATION DAMAGE TO OTHER MOLECULES IN THE BODY
THERAPEUTIC BENEFITS
ANALGESIC: RELIEVES PAIN
ANTIBACTERIAL: SLOWS BACTERIAL GROWTH
ANTI-DIABETIC: HELPS MITIGATE THE EFFECTS OF DIABETES
ANTI-INFLAMMATORY: REDUCES INFLAMMATION SYSTEMICALLY
ANTI-INSOMNIA: AIDS WITH SLEEP
ANTI-PROLIFERATIVE/ANTI-MUTAGENIC: INHIBITS CELL MUTATION, INCLUDING CANCER CELLS
ANTIPSYCHOTIC: TRANQUILIZING EFFECTS RELIEVE SYMPTOMS OF PSYCHOSIS
ANTISPASMODIC: SUPPRESSES MUSCLE SPASMS
MYRCENE
Myrcene was discovered to be the most abundant terpene in many cannabis strains. Myrcene is a monoterpene, the smallest of terpenes, and is found in very high concentrations in sweet basil, hops, mangos, and cannabis. It's named after Myrcia sphaerocarpa, a medicinal shrub from Brazil that's particularly rich in this terpene. In terms of aroma, this molecule produces an earthy, spicy, clove fragrance in the strains of cannabis in which it dominates. Myrcene's major effect is sedative in nature, resulting in relaxed muscles and a reduction of pain. It is also used to treat insomnia. It is a recognized sedative as part of hops (Humulus lupulus) preparations used in Germany to aid sleep (Bisset and Wichtl, 2004).
This amazing terpene has been found to block the cancer-causing effects of aflatoxins travel to many of our food sources from fungi. 12 Myrcene's inhibition of the liver enzyme CYP2B1 is responsible for these anti-mutagen effects. It also mitigates DNA damage from toxins such as t-butyl-hydroperoxide. 13 Myrcene has also been used for many years as a folk remedy for hypertension, diabetes, diarrhea, and dysentery.
LIMONENE
Limonene, a cyclic monoterpene, has a pungent citrusy, bitter odor and flavor. Unsurprisingly, it`s highest concentrations are found in citrus fruits. Limonene also occurs naturally in a variety of other trees and herbs including pine, rosemary, mint, fennel, and juniper.
A terpene with a wide range of uses, limonene is widely used in perfumes, household cleaners, foods and medicines. Its widespread use is largely due to its very low toxicity.
Like other terpenes, limonene conveys many medicinal benefits, including improvements in digestion, mood enhancement (helpful in the treatment of anxiety and depression), and significant anti-inflammatory properties. It is these anti-inflammatory characteristics that give this terpene special value for hundreds of diseases and conditions related to inflammation, including cancer, arthritis, and asthma.
In addition, limonene has been found to aid in combating acid reflux (including heartburn) and decreasing anxiety. This valuable terpene has also been shown to dissolve gallstones and is a mild appetite suppressant. Limonene also has been established as an antimicrobial, antibacterial,16 antioxidant agent, and potentially contains numerous other health benefits.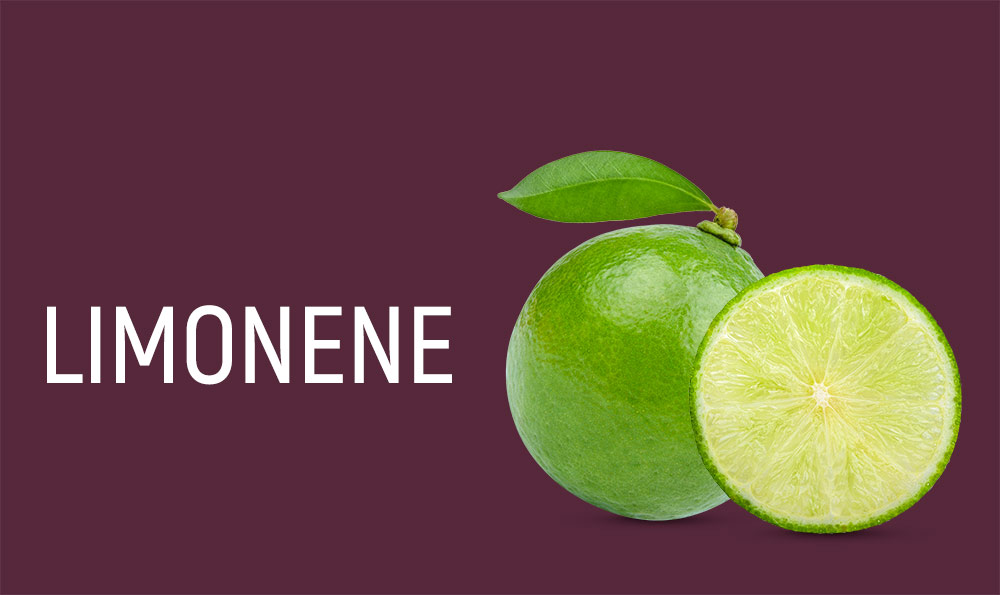 THERAPEUTIC BENEFITS
ANTIBACTERIAL: SLOWS BACTERIAL GROWTH
ANTIMICROBIAL: DESTROYING OR INHIBITING THE GROWTH OF MICROORGANISMS
ANTIFUNGAL: INHIBITS THE GROWTH OF FUNGUS
ANTI-INFLAMMATORY: REDUCES INFLAMMATION
ANTI-PROLIFERATIVE: INHIBITS CANCER CELL GROWTH
ANXIOLYTIC: RELIEVES ANXIETY
GASTRO-ESOPHAGEAL REFLUX: REDUCES ACID REFLUX
IMMUNOSTIMULANT: STIMULATES THE IMMUNE SYSTEM
THERAPEUTIC BENEFITS
ANTIBACTERIAL: SLOWS BACTERIAL GROWTH
ANTI-FUNGAL: INHIBITS THE GROWTH OF FUNGUS
ANTI-INSOMNIA: AIDS WITH SLEEP
ANTI-PROLIFERATIVE: INHIBITS CANCER CELL GROWTH
ANTIOXIDANT: PREVENTS OXIDATION DAMAGE TO OTHER MOLECULES IN THE BODY
TERPINOLENE
Terpinolene is one of the many terpenes in the terpinene and pinene family. While they all share the same molecular formula, weight, and construction, the placement of the double carbon bond differentiates them. This defines their unique synergistic qualities when combined with CBD products for therapeutic benefits. 21
Terpinolene is found in oregano, marjoram, cumin, lilac, some citrus rind and conifers.
This very interesting terpene is popular in the scientific community for its antioxidant, 22 antibacterial,23 and antimicrobial24 properties in addition to the growing evidence for potential use in fighting cancer,25 treating anxiety, and improving cholesterol levels. Terpinolene also has notable sedative and sleep aid qualities.
You can also watch the Fundacion Canna's short video about terpenes and flavanoids below:
Video source: Fundacion Canna
Terpenes Effect
The Entourage Effect
The "Entourage effect" is a concept that suggests that when terpenes are combined with cannabinoids in the cannabis plant, the overall therapeutic effect is greater than the sum of the effects of each individual compound. This idea was first proposed by researchers Raphael Mechoulam and Ben-Shabat from Israel, who found that certain biological products in the plant could enhance the activity of the primary cannabinoids. Another researcher, Ethan Russo, described this concept as "botanical synergy", where the dominant molecule in the plant is supported by other compounds such as cannabinoids, terpenes, flavonoids and other substances to achieve a maximal pharmacological effect.
Conclusion
In summary, terpenes have their own beneficial effects on the body, such as sedative, anti-anxiety and anti-inflammatory properties. When combined with other compounds found in hemp, terpenes enhance the entourage effect, creating a more potent and beneficial experience.
If you're interested in trying full-spectrum CBD oils with added terpenes, we offer a wide range of products designed to provide maximum entourage effect and experience. As more research is conducted into the unique properties of terpenes, it is likely that the potential benefits of these compounds will continue to expand in the future.
Latest articles:
https://www.ncbi.nlm.nih.gov/pubmed/26983194

https://www.ncbi.nlm.nih.gov/pmc/articles/PMC5437114/

https://www.ncbi.nlm.nih.gov/pmc/articles/PMC2449371/

https://www.ncbi.nlm.nih.gov/pmc/articles/PMC4789136/

https://www.ncbi.nlm.nih.gov/pmc/articles/PMC2768535/

https://www.sciencedirect.com/science/article/abs/pii/S0031938414003400

https://www.ncbi.nlm.nih.gov/pmc/articles/PMC4234427/

https://bpspubs.onlinelibrary.wiley.com/doi/full/10.1111/j.1476-5381.2011.01238.x

https://www.ncbi.nlm.nih.gov/pubmed/12122569

https://link.springer.com/article/10.2478/s11756-013-0230-2#page-1

https://www.steephill.com/science/terpenes

https://www.ncbi.nlm.nih.gov/pmc/articles/PMC3165946/

https://www.sciencedirect.com/science/article/pii/S0378427497000349

https://www.sciencedirect.com/science/article/pii/S0278691508006492?via%3Dihub

https://www.ncbi.nlm.nih.gov/pubmed/30508582

https://www.ncbi.nlm.nih.gov/pubmed/25896273

https://www.ncbi.nlm.nih.gov/pubmed/27888114

https://www.ncbi.nlm.nih.gov/pmc/articles/PMC3598547/

https://www.ncbi.nlm.nih.gov/pmc/articles/PMC5894671/

https://www.ncbi.nlm.nih.gov/pubmed/16008117

https://www.ncbi.nlm.nih.gov/pubmed/25372394

https://www.ncbi.nlm.nih.gov/pubmed/21425693

https://www.ncbi.nlm.nih.gov/pubmed/22740904

http://europepmc.org/abstract/MED/23339024